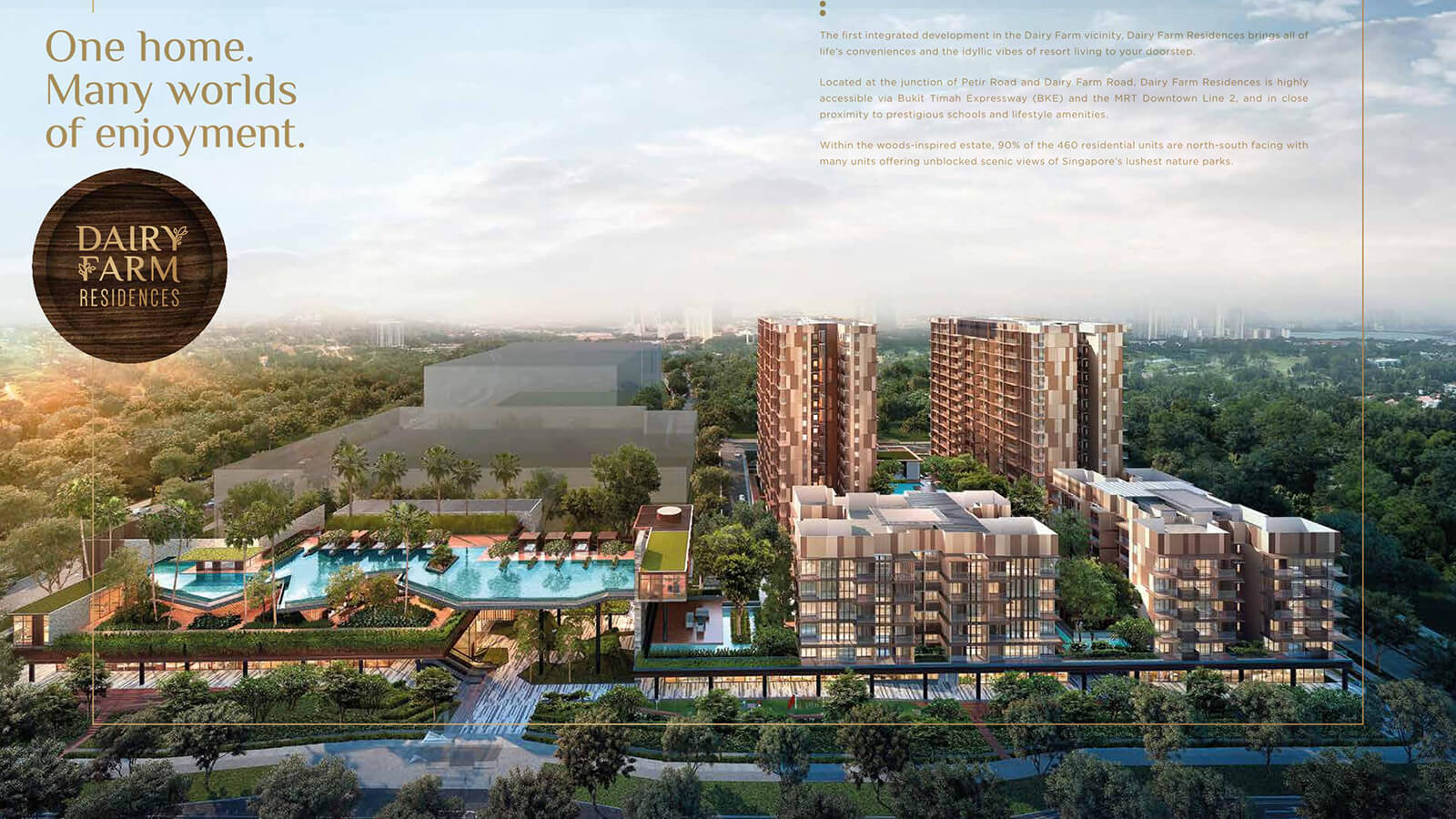 Dairy Farm Residences 岱莉轩
Dairy Farm Residences is conveniently connected by cycling and pedestrian networks within the Western Adventure Loop and Rail Corridor (Central) of the Park Connector Network. With its close proximity to Dairy Farm Nature Park, Bukit Timah Nature Reserve, Zhenghua Nature Park, Chestnut
Nature Park and Central Catchment Nature Reserve, Dairy Farm Residences is within the heart of the city's most forested enclave; offering a true retreat from the hustle and bustle of urban Singapore.
Representing living in harmony at its finest in a peaceful and calm environment surrounded by floral pleasure of greenery, Dairy Farm Residences offers 460 luxurious residential homes. Arranged in two exclusive 15-storey and two 5-storey towers are segregated from the commercial podium. Separate car park spaces are provisioned in the basement
levels. Vehicular and pedestrian access will be from Dairy Farm Lane. Each unit will have extending balconies that welcome the essence of nature blending seamlessly into
the home. Homes on the upper floors will enjoy spectacular picturesque views of the Bukit Timah Nature Park to the west and the Central Catchment Nature Reserve and Upper Pierce Reservoir to the east.
Two level retail Podium:
Supermarket
F&B
Food Hall
Childcare Centre
Retail, Service & Entertainment
Dairy Farm Residences 岱莉轩
Address : 4, 6, 8, 10 & 12 Dairy Farm Lane
Type of Property: Condo, Mix-Development
Expected TOP: February 2024
Developer: UE Dairy Farm Pte Ltd
L1 THE WOODS
1 DROP OFF
2 ATRIUM LOBBY
3 POOL DECK
4 FOREST TRAIL
5 SOM LAP POOL
6 FOREST CABANA
7 SUNDECK
8 WATER COURT
9 WOODS PLAY
10 HILL PLAY
11 HERB GARDEN
12 PARTY LAWN
13 THE BANQUET
14 LAWN DECK
15 JOGGING TRAIL
16 OUTDOOR FITNESS
17 THE GRILL HOUSE
18 FEATURE TREE
19 GRAND ATRIUM
L2 THE CANOPY
20 BBQ DECKI
21 BBQ DECK II
22 HAMMOCK DECK
23 YOGA DECK
24 MIST GARDEN
25 SUNKEN LOUNGE
26 HAMMOCK GARDEN
27 STREAM WALK
28 FERN GARDEN
29 SUNRISE GYM
30 FOOT REFLEXOLOGY WALK
31 TENNIS COURT
Misc
А А VEHICLE ENTRY/EXIT
B GUARD POST
c RESIDENTS' SIDE GATE 1
D RESIDENTS' SIDE GATE 2
E RESIDENTS' SIDE GATE 3 (B1)
F SUBSTATION (B1)
G TRANSFORMER ROOM (B1)
H BIN CENTRE (B1)
I GENERATOR (L2)
J WATER TANK (L6)
K WATER TANK (L15)
L3 THE OASIS
32 HILLTOP BAR
33 UPPER FUNCTION ROOM
34 JUMPING JET
35 KIDS' POOL
36 AQUA GYM
37 WATER BED LOUNGE
38 VALLEY POOL DECK
39 WATER DECK
40 WATER FOUNTAIN POOL
41 PARTY POOL
42 PARTY DECK
43 BOUTIQUE SPA
44 VALLEY POOL
45 LIFESTYLE POOL
46 WATER LOUNGE
47 HILLTOP DINING
Malls & Supermarkets
– HillV2 (1.2km) – Cold Storage
– The Rail Mall (1.2km) – Cold Storage
– Hillion Mall (2.4km) – NTUC Fairprice
– Bukit Panjang Plaza (2.5km) – Fairprice Finest
– Junction 10 [formerly 10 Mile Junction] (2.8km) – Sheng Siong Supermarket
Nature Parks & Lifestyle
Nature Parks
Zhenghua Park – 3.3km
Dairy Farm Nature Park – 1.1km
Bukit Panjang Park – 3.4km
Bukit Batok Town Park (Little Guilin) – 3.7km
Bukit Batok Nature Park – 3km
Bukit Timah Nature Reserve – 2.9km
Lifestyle
Bukit Gombak ActiveSG Stadium – 3.8km
Schools
Preschools
St Joseph Church Kindergarten – 1.2km
Bukit Panjang Methodist Church Kindergarten – 1.6km
White Lodge Kindergarten (Jalan Siap) – 1.5km
PCF Bukit Panjang Blk 226 – 1.2km
PCF Bukit Panjang Blk 111-110 – 1.6km
Masjid Al-Iman (Kindergarten) – 1.7km
Ismart Montessori Kindergarten – 1.8km
PCF Bukit Panjang Blk 254 – 1.9km
Primary Schools
CHIJ Our Lady Queen Of Peace – 1.4km
Bukit Panjang – 1.4km
Zhenghua – 2.3km
Secondary Schools
Chestnut Drive – 1.km
Assumption Pathway School – 1.8km
Fajar – 2.7km
Junior College
Jurong Pioneer Junior College – 3.8km
Tertiary
Ngee Ann Polytechnic – 4.8km
Universities
Singapore University of Social Sciences – 5.3km
National University of Singapore – 8.5km
International School
German European School Singapore – next door