A Partnership That Proudly Brings You: THE POWER OF III
POSITION | PRIVILEGE | PASSION
A position of prestige where the world comes to you;
For the privileged few who can now call the sky their own;
Curated spaces of thoughtfulness designed to evoke the passion in you.
Stirling Residences comprises 3 Blocks of 38-40 storey building with Childcare Centre.
Address : 21,23,25 Stirling Road Singapore 148960, 148961,148962
Developer: LN Development (Stirling) Pte. Ltd.
Architect: P&T Consultants Pte Ltd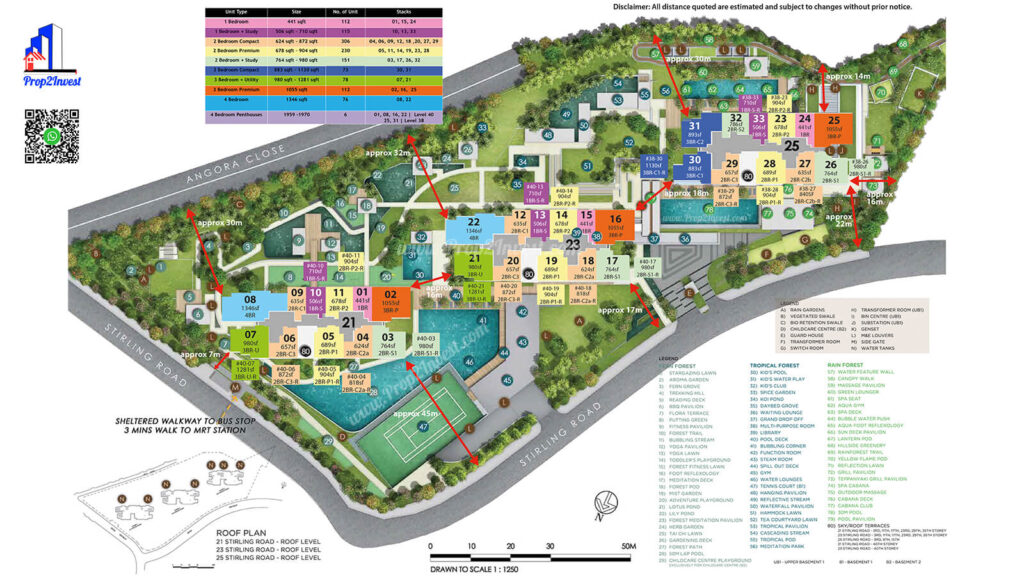 At 1st Storey
1. Stargazing Lawn
2. Aroma Garden
3. Fern Grove
4. Trekking Hill
5. Reading Deck
6. BBQ Pavilion
7. Flora Terrace
8. Putting Green
9. Fitness Pavilion
10. Forest Trail
11. Bubbling Stream
12. Yoga Pavilion
13. Yoga Lawn
14. Toddlers Playground
15. Forest Fitness Lawn
16. Foot Reflexology
17. Meditation Deck
18. Forest Pod
19. Mist Garden
20. Adventure Playground
21. Kids Pool
22. Kids Water Play
23. Kids Club
24. Lotus Pond
25. Lily Pond
26. Forest Meditation Pavilion
27. Herb Garden
28. Taichi Lawn
29. Gardening Deck
30. Spice Garden
31. Koi Pond
32. Daybed Grove
33. Waiting Lounge
34. Grand Drop Off
35. Multi-Purpose Room
36. Library
37. Pool Deck
38. Bubbling Corner
39. Function Room
40. Steam Room
41. Spill Out Deck
42. Gym
43. Water Lounges
44. Forest Path
45. 50m Lap Pool
46. Tennis Court
47. Childcare Centre Playground
(exclusive to Childcare Centre use only)
48. Hanging Pavilion
49. Reflective Stream
50. Waterfall Pavilion
51. Hammock Lawn
52. Tea Courtyard Lawn
53. Tropical Pavilion
54. Cascading Stream
55. Tropical Pod
56. Meditation Park
57. Water Feature Wall
58. Canopy Walk
59. Massage Pavilion
60. Green Lounger
61. Spa Seat
62. Aqua Gym
63. Spa Deck
64. Bubble Water push
65. Aqua Foot Reflexology
66. Sun Deck Pavilion
67. Lantern Pod
68. Hillside Greenery
69. Rain Forest Trail
70. Yellow Flame Pod
71. Reflection Lawn
72. Grill Pavilion
73. Teppanyaki Grill Pavilion
74. Spa Cabana
75. Outdoor Massage
76. Cabana Deck
77. Cabana Club
78. 30m Pool
79. Pool Pavilion
80. Sky/Roof Terrace -
-21 Stirling Road– (3rd 11th, 17th, 23rd, 29th, 35th STOREY)
-23 Stirling Road – (3rd 11th, 17th, 23rd, 29th, 35th STOREY)
-25 Stirling Road– (3rd, 9th, 15th, 21st, 27th, 33rd STOREY)
-21 Stirling Road– (40th STOREY)
-23 Stirling Road– (40th STOREY)